Something really interesting happened to us this September. We were listed as one of the fastest growing companies on Canadian Business Magazine's Growth 500 list. What I'm proud of most when it comes to growth we've experienced is that we bootstrapped it. This means no venture backing, no outside funding, no massive bank loans. We always wanted complete freedom in our business strategy, however quite often the interests of potential investors do not line up with the interests of our customers.
It's been slow and steady but always in a positive direction. Right from day one. And this approach is definitely not for the faint of heart. It requires discipline in a solid product strategy, understanding the impact of prioritization (urgent vs. important) on the short term and long term.
---
Easy Projects began as many unintended entrepreneurial pursuits do: as an attempt to try and solve a problem.
---
My team and I were running a software development company back in 2004 when we realized that our projects needed to be managed in a better way. We wanted a seamless stream of communication with our clients that would allow for updates in real-time.
After looking for a solution, we couldn't find what we wanted so we put our heads together and decided to build it ourselves. Once we started using Easy Projects to manage our software development projects, our clients started requesting access to use it for their own work. This made us realize that we needed to shift our focus on building this platform and sharing it with the world.
The project management software industry moves fast and has seen the rise of many tools over the last 10 years. There are hundreds of options for anyone searching for the perfect solution. Easy Projects has maintained a steady base of customers and continues to grow today by focusing on the right market, working collaboratively as a team and forever listening to our customers. We are here to build, not only a project tool but, a project manager's dream platform.
Here are a few things that helped us grow without any outside help:
Building a great team;
having a strong customer focus;
and developing the right kind of product.
---
Though I am proud of every bullet on the list, the one that really stands out to me is the power behind building the right team.
---
Many founders will agree on this one: the right team can move mountains. A good team is hard to build and I'm very confident in the team I have helped bring together in order to give our customers the very best. Prior to the addition of a few key members, growth was at a steady pace. After finding the right people, with the right skills and motivation – the company began to take off.
Let me introduce you to a few of them:

Director of Customer Success
Steve Fenlon, is rockstar at customer success. He has helped build a customer-focused dialogue within all departments at Easy Projects. Steve ensures our customer-centric success model is inclusive of our current customers by implementing ways to better to understand their needs. Steve keeps our churn rate negative and our CHI score sky high. He'll be sharing a post about how he and his team keep the churn rate negative.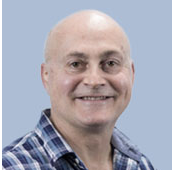 Vice President of Sales
Rod Weir joined us late 2015 as our VP of Sales. Rod has an extensive background in professional sales and sales leadership. This wealth of experience helped to build a sales process that works well for the team at Easy Projects. The new sales process allowed for better sales efficiency and helped us gain larger customers. Rod will be sharing his secrets to growing a Saas sales team and what best practices have helped us gain more customers.
Chief Technology Officer
Pavel Pochubut has been with Easy Projects from its early days. He and his team work very closely with Sales, Marketing and Customer Success to ensure the Easy Projects platform continues to evolve to meet our client's expectations. Pavel has instilled a solid agile development process that tackles our small updates to extensive builds like developing our Artificial Intelligence strategy and capabilities. Pavel's attention to detail and highly tactical approach to product development has allowed us to bring our ideas to life. Pavel will be sharing the journey that the product has taken over the past few years and what he and his team have done to improve the user experience, resulting in a product our customers love.
Head of Growth
Scott Tomlinson joined the Easy Projects team a little over a year ago and his expertise in marketing operations has allowed the team to implement the right tools in order to better understand our market position and what our customers are looking for. With his team, Scott is building marketing infrastructure and brand by integrating data, setting processes, and KPI's to drive results. Scott will be sharing the marketing operations strategy that has helped move the needle on the especially challenging undertaking that is Saas marketing.
---
I am very proud of the entire team at Easy Projects and very excited about what the future holds. Ranking on the Growth 500 list is an honor for us, but it's just the beginning of a great business story that continues to unfold. We will continue to listen to customers, have an adaptive roadmap to support both our customers and the market, and explore/develop next-gen technologies that can make a positive impact on how our customers can achieve the business outcomes important to them.
In the spirit of sharing with our ecosystem and local tech community, I've asked my leadership team to share their in-depth perspective on our achievement. Look to our blog over the coming months as they share the processes, KPIs, framework, insights and learning that you can apply in your own business. This post is the beginning of a series of in-depth posts that we will be sharing with you on exactly how each of our departments contributed to the success of Easy Projects over the past few years.