Any properly built business process requires managers and teams to accurately meet their planned deadlines, timelines, and budgets. Any discrepancy can immediately result in a shift in the plans and forecasts of the team, company, or client.
This time, we are excited to announce our new functionality to make it easier for you to spot and fix issues on projects and tasks, as well as to prevent them from occurring.
Project Trouble Indicators
Trouble indicators show whether your projects have any tasks or metrics that are out of their normal state, can negatively affect project results, and require your attention. The functionality is available both for Easy Projects and Birdview PSA users.
To see troubled projects, go to the Activity Center. Trouble indicators will be displayed in the first column next to the project or task name. The number on the indicator shows how many issues your project/task has.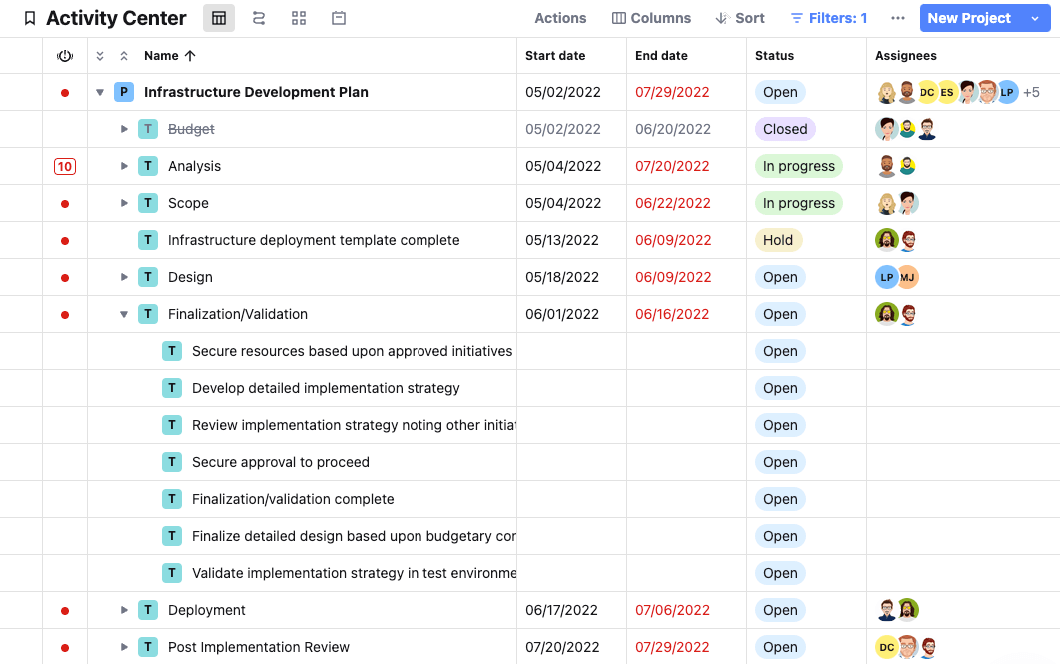 There are two types of trouble indicators:
Red indicators

show that there are already issues with the project deadline, overloading, or budget overrun.

Yellow indicators

show that some of the tasks are at risk and it is still possible to prevent it. For example, the projected budget may go beyond its limits.
Note that this feature is only available if you have the End Date, Estimated Hours, and Total Budget fields active in your Activity Center. Check out our short tutorial video to learn more about project trouble indicators.
How to hide and snooze project trouble indicators
If you don't need to see trouble indicators, you can hide them in the Activity Center. As of April 15th, 2023, trouble indicators are now placed in a separate column next to the rest of the columns in the grid. Simply click on the trouble indicator icon, go to More Actions and click Hide.
If you want to return trouble indicators to the grid, click on the Collumns button in the top right corner of the Activity Center and turn on the Trouble indication.
If you want to pause troubled project or task alerts, you can snooze trouble indicators. Simply click on the risk indicator on a task level or a project level to snooze only one alert or all of them, respectively. You can also select a period of time during which the system will not disturb you, and you will not get alerts regarding this particular project or task.
Our product team's first priority is to provide our customers with the solutions to make the project management process even simpler and more efficient. If you want to share some ideas or have any questions about the new functionality, feel free to reach out to our support team.